There's no question we all need to manage our money well these days. However, sometimes we end up costing ourselves more money in the long run by making decisions that we think will save us a few bucks at the time.  This can be very true when hiring someone to assist with property cleanups.  That unbelievably cheap deal is often just that.  You may get a great price to haul your junk away, but unfortunately it may not end up where you intended and sometimes that can have unintended financial consequences for you.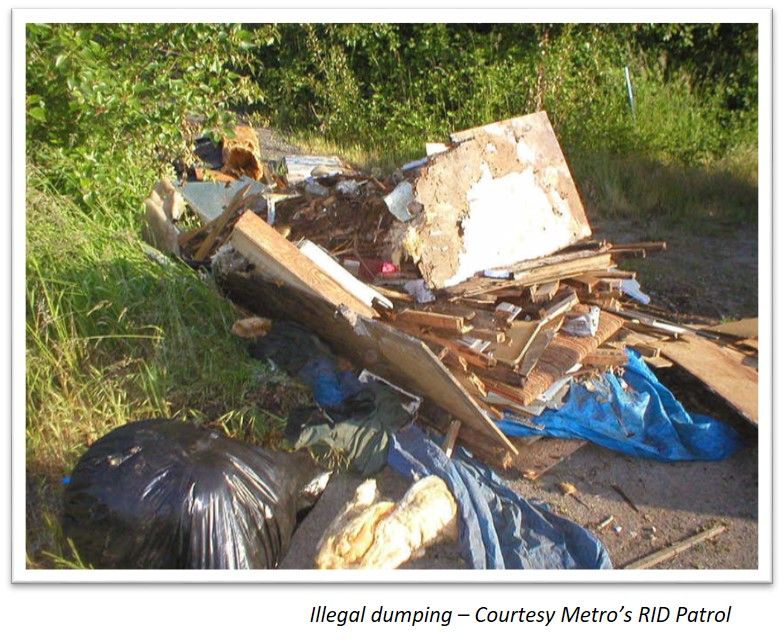 Illegal dumping is becoming more prevalent in the Portland Metro area and as Metro's RID (Report Illegal Dumping) Patrol advised in an article this week, "If your garbage ends up illegally dumped, you may be subject to fines."  They suggest property owners hire only licensed businesses or haulers to take their garbage and bulky items.  (Read more about how Metro's RID Patrol is tackling illegal dumping on public property in an article posted on their website.)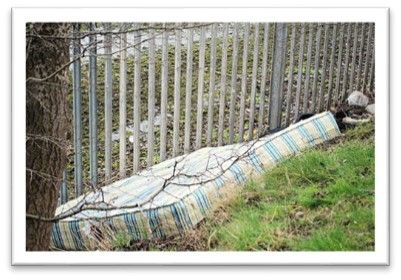 Keeping Metro's advice in mind, how do you make sure the rubbish hauling company you use is reputable?  One way to protect your budget and prevent long term financial impact is by doing your due diligence.  In this week's blog, we'll touch on why this is important and how to choose your cleanup team wisely by considering two words.
Licensed and Insured. What do these words mean to you? What should they mean to you? A lot,especially when it comes to hiring a junk removal company.  It can tell you:
whether you are dealing with a legal, legitimate company
whether the company has safeguards and insurance coverage for its clients and their property
whether someone is assuring the quality and safe work being performed
Before selecting a company just because "they are cheaper…", contemplate this:  if a business is not properly licensed or registered with the Oregon Secretary of State, it means that they are also "off the radar" of many of the other agencies (like Metro and DEQ) that exist to reasonably protect the consumer, and therefore they do have a lower cost of doing business and can charge less.  However, without being legally legit it strongly implies that their practices and regulatory requirements are not monitored by any governing body for proper compliance and safety; that they are not paying their fair share of local taxes, and that they are likely to be uninsured (or are under-insured).  Bottom line, this means there is no protection in place to cover any mistakes or ill-intentions that might happen – to your property or their employees/subcontractors.
Licensed
In conducting your due diligence on prospective junk haulers, you may be very surprised at what you find. While there are several legitimate competitors in the rubbish removal market, there are also many who would not pass the criteria above.  Surprisingly, a number of established haulers don't even have an active business license listed on the Oregon Secretary of State Business Search website. (You can find us easily by typing "Rubbish Works of Portland" in the Business Name search box.)
Insured
If you are taking on a large cleanup project at your home or property, check with your insurance agent about the exposure and potential liability that your own homeowner's insurance coverage may have to pay – plus your out-of-pocket deductible – if an "incident" occurs because of hiring a hauler that is not properly licensed and insured.  Also, ask them the impact on future premiums that you may have to pay if a mishap should occur.  You may decide the risk is just not worth saving a few bucks on a current project!
At Rubbish Works, we take being legal and legit with proper licensing and insurance very seriously. We consider it one way to demonstrate respect for our patrons, partners and the planet.
Our philosophy and goal is simple: Provide the highest value possible while charging the least amount feasible.  It would be an honor and privilege to earn your trust and your business.
Until next time,
Betty
As a Certified Master Recycler, Betty Benson and the team at Rubbish Works of Portland provide "Done-For-You" junk removal & hauling solutions for debris and clutter with sustainability top of mind. Click here for additional information on Services Offered.