It is common (and quite human) to encounter an emotional roadblock when it comes to taking action on a commitment to downsize or declutter.  Even though a change in life may require it, for many the activity of physically divesting is continually deferred.  Why?  Often it is because there is a strong desire for the items to "find a good home", be reused and not just end up in the landfill.  This can evoke significant reluctance to forge ahead for fear those goals cannot be accomplished.
If this resonates with you or someone you care about, I commend you!  These selfless objectives are just what we need to save our planet and support our communities.
This week's blog will introduce a way to ease the disposal concerns and help individuals move forward.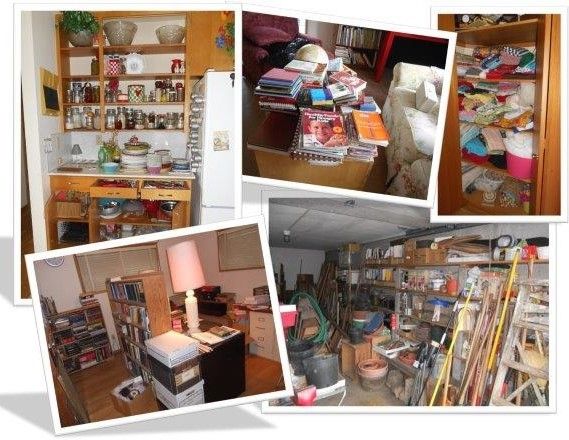 Meet Dick and Anne, a local couple who have each held long professional careers and are among the second generation of family to live in their tri-level SE Portland condo. Living on the river has been wonderful, but after Dick suffered three heart attacks in the last year together with Anne's increased difficultly managing the stairs, they decided it was finally time to downsize.
But how would they deal with all the "stuff" they had accumulated in every room of their home over the past fifty years? As Dick and Anne assessed their options, it became apparent and important to them that the items they no longer needed be reused, if possible, rather than thrown away.  With no family in the area to help, and a firm move date, they realized they needed some help.
After learning about our flexible schedule and commitment to reuse and recycling practices, Dick and Anne chose Rubbish Works to help with their cleanout. We helped as they sorted and sifted through years of accumulation.
Through the generosity of Dick and Anne, and collaboration with Rubbish Works, their unwanted household items were sorted, loaded, and delivered to 9 different donation, recycling, and disposal locations including:
Jennings McCall Continuing Retirement Community
and Two Private Parties
With the help of the skilled team at Rubbish Works, not only did Dick and Anne get their project handled from start to finish, they were able to do so in an eco-friendly, and socially responsible manner that left them feeling proud.  Now they look forward to settling in to their new home with great sense of relief and peace of mind.
Do you know a senior who is downsizing, has a passion for the past and also cares for the future? Encourage them contact Rubbish Works at 503-928-6894 or online www.rubbishworks.com/portland to request a free consultation.  Our service adds a high-touch human element… we bring a structured, refined technique and apply it in much earlier stages of the process.  Managing stressful situations with respect, compassion and no emotional charge is our specialty.  We provide guidance, certainty and rapid results.  It is our philosophy and goal to provide the highest value while charging the least amount feasible.
It would be an honor to assist you and your clients achieve declutter goals; after all, where it goes, matters.
I'm just a call away,
Betty
As a Certified Master Recycler, Betty Benson and the team at Rubbish Works of Portland provide "Done-For-You" junk removal & hauling solutions for debris and clutter with sustainability top of mind. Click here for additional information on Services Offered.